Vivoh provides a rich video webinar experience for all end-users through our cost effective and simple-to-deploy "network backstop" plug-in. Our solution fills the gap for large, enterprise events, like all-hands meetings, through Zoom, Microsoft Teams or Webex without negatively impacting other business critical network traffic.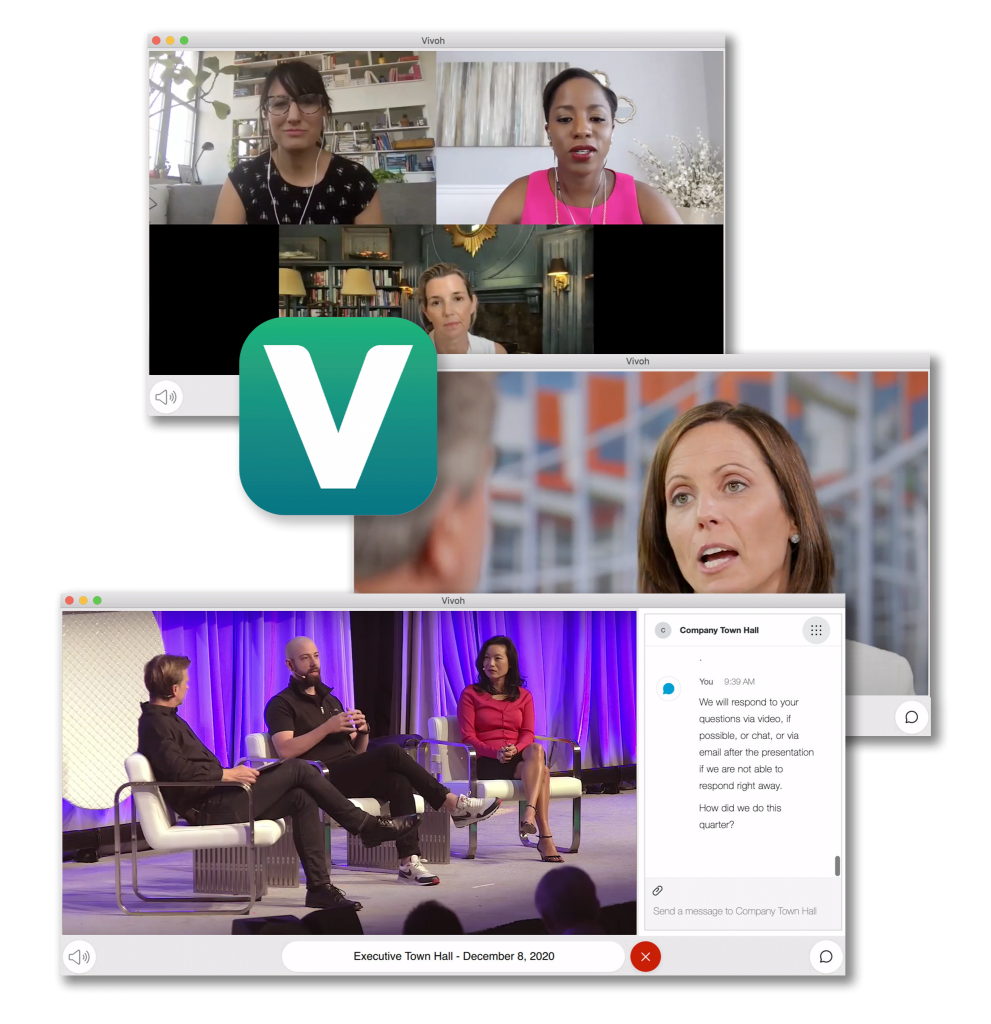 THE PROBLEM
Meeting planners are often forced to switch from Zoom, Microsoft Teams or Webex to complicated webcasting platforms and expensive enterprise content delivery networks when hosting large-scale meetings with viewers from within their corporate networks.
What are the challenges?
Zoom, Microsoft and Cisco don't maintain HD video quality when local networks become overloaded.
These services interrupt other important business services when too many have joined the events from within the same building, or region.
Switching to webcasting platforms comes at an even larger cost: failed events from operator error when meeting planners and hosts use unfamiliar services.
Presenters are uncomfortable with these webcasting platforms.
Many companies mitigate these issues by spending tens of thousands of dollars per event on full-service webcast production after already spending hundreds of thousands of dollars on enterprise video platforms with integrated enterprise content delivery.
VIVOH IS THE SOLUTION
Zoom Webinars, Microsoft Teams Live Events and Cisco Webex Events are simple to use and provide a high-quality experience for all. Vivoh adds scale for internal distribution.
Why Vivoh?
Vivoh allows all meetings to be in HD while staying within the Zoom, Microsoft Teams or Webex experiences, regardless of how many are attending. With Vivoh, meeting planners ask presenters to use the tools that they are already comfortable with and then they deliver the same video quality – without impacting local networks.
Vivoh is cost effective with monthly host-based pricing which includes unlimited events, users, and minutes. Vivoh is simple-to-deploy and intelligently routes users to the native Zoom, Microsoft, or Cisco Apps where Vivoh is not available. Presenters stay in Zoom, Teams, and Webex where they are comfortable. All events become self-service, and companies save hundreds of thousands of dollars each year!
About Vivoh
Vivoh is the leading provider of enterprise multicast video apps for all-hands meetings. Our customers include Financial Services, Government, and Healthcare companies that handle billions of network transactions every day. Vivoh protects their networks from the disruptive impact of live video. You can find us in the Zoom Marketplace and the Cisco Webex App Hub or https://vivoh.com.